Preparing a Brand for Private Label Supplement Manufacturing
Private label supplements offer great brand exposure. With each supplement sold, you are advertising your name and contact information. Happy and loyal customers may be given the opportunity to talk about your practice and your brand. Your company gains a professional image as well.
It increases your brand visibility and makes a statement. Private labeling can save you time and money. No more delays associated with wholesale products and suppliers, and you can deliver a product you know and trust.  Combining cost savings with cost benefits and a trusted product is a winning combination for success. Private label supplements that are created specifically for a business and target the demographics they are trying to reach is what separates brands from one another.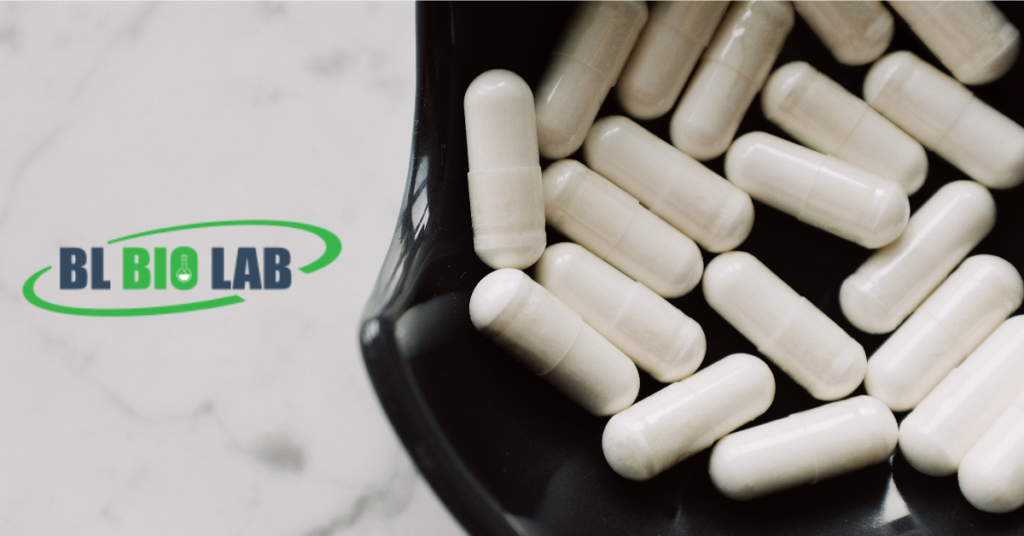 Benefits of Private Label Supplement Manufacturing
There are many opportunities in private label supplements. Whether you are interested in starting a line in skin care, sports nutrition, weight management, or Nutraceuticals. Private labels allow you to offer a custom product to your clients with the flexibility to set your own prices. The ability to protect your margins while simultaneously increasing sales and profits is just one of many benefits.
Saves time, money, and energy

Gain credibility and loyalty from consumers

Offer lower costs with higher margins

Enhance your image and expand your product range

Ability to tailor packaging and labels to meet your specifications

Opportunity to grow your business over time

Perception of professionalism and competence

Ability to make highly customizable formulations

Expand your product line
FDA Registered Facility
Fast Quoting
Trial & Sample Custom Runs Available
8 to 10 week turnaround time on new products; 5 to 7 on reorders
In-House Bio Chemist & Ph.D. Lead Formulation Team
MADE IN USA
Dedicated Account Manager
Bulk & Wholesale pricing available
Low MOQs for Custom Contract Manufacturing
Ready to work with start-up, small, medium, and enterprise size businesses
BL Bio Lab is a private label supplement manufacturer of dietary supplements, cosmetics, and skincare products. As a custom supplement manufacturer, we can make nearly anything we are presented due to our experienced in-house PH.D. Research & Development staff and formulation engineers. We work with all types such as capsules, powders, tablets, liquids, oils, serums, creams, and gels.
We classify private label supplements as simply dietary supplements, vitamins, and nutraceuticals marketed/sold by another brand or company. We provide everything from the ground up, from the formula to the packaging.
The most common private label brands are commonly referred to as "store brands" and offered by food retailers, vitamin stores, and department stores proudly displaying the store's own label.

Why Use BL Bio Lab?
BL Bio Lab provides in-house experts with decades of experience to perfect product formulations and deliver new and existing clients with only the highest quality nutrition and health supplements. Our specialty is dietary supplements and skin care products; all of which are created and manufactured in an FDA registered facility.
BL Bio Lab creates the strongest formulations in the marketplace. Any company that puts a priority on research and development is likely to have products pushing the boundaries of innovation. BL Bio Lab goes the extra mile to help you create an outward facing product that fits your brand. Between quality control and lab testing, you are sure to get the best product.
Customer service is a vital part of any business. BL Bio Lab strives to provide customer service that goes above and beyond. We want to work with you to make sure you are happy with your order and that your demands are being met. Our mission is to create quality private label supplements crafted by our expert formulation team. With an emphasis on sourcing/utilizing quality raw materials, BL Bio Lab prides themselves on delivering a product they can stand behind.
Full Turn Key Solutions for Private Label Supplement Manufacturing
BL Bio Lab sees the supplement through the manufacturing life cycle from start to finish, with all operations taking place under one roof. This allows for a higher level of transparency and the ability to preserve the integrity of the brand. This means you can put your trust in their reliability and know that your order adheres to these standards.
Private label supplements are the perfect addition to your sales line. It is a great way to spread your name and get your brand noticed. BL Bio Lab even offers creative help in designing your marketing materials and everything from the bottle to the capsules to the label. More and more consumers are turning to store brands over big-name brands when it comes to supplements, dietary vitamins, and nutraceuticals.