Currently waiting on a couple of orders but can say my account manager Natalie has made the process incredibly easy and is amazingly helpful. Refeshing to see such timely, informative and friendly responses from any company, let alone a B2B company. She can't do enough to help a smaller business!
I highly recommend using BL Bio for your manufacturing needs. Their prices are very fair and they were very easy to work with. Max, especially, was great and awesome to work with. He was very thorough in explaining the process and very patient and offering great marketing advice for my company.
Marketing - Paula MacDonald
2021-07-30
I am very happy with my experience with BL Bio Lab and gladly recommend them to anyone who desires a high quality product delivered on time. Partnering with a company that has integrity with a desire to help others succeed in their business is what most people desire but rarely find. If you are looking to establish a beneficial long term relationship, then you need to contact them.
Product quality is great and the customer service is second to none. Always satisfied and haven't experienced any issues to date. I've dealt with Max on multiple occasions, he's always courteous and extremely helpful.
Alexander Aquino
2021-07-30
These guys are awesome! I worked with Max and I couldn't have been happier! Anything you need, Max is your guy!
I set the record straight. Bl Bio Lab's service was really fast and offered the best customized formulation which I wanted. Even though I required lots of 3rd party lab -testings, they did their best on their side. Looking forward to the next production. Thanks again
Powder Manufacturing at BL Bio Lab
Our powder manufacturing line uses state-of-the-art equipment to produce your products at a speed of 10,000 units per day between our fully automatic and our additional semi-automatic line. Our powder manufacturing cleanroom is where all production of non-liquid and non-capsule manufacturing occurs. A dedicated team runs each aspect of this line to ensure your private label supplements are produced at the highest possible quality.
Product Filling
After your product has been weighed, mixed and approved for bottling by Quality Control personnel, the mix is brought to the powder manufacturing line. Here, it is carefully loaded into our filling machine. Jars are passed down the line while the filler automatically weighs the exact amount of product and drops it in. This is computer controlled step and ensures the highest possible accuracy. Despite this, a QC Inspector will take random samples to verify the weights of your product, allowing for even more certainty.
Metal Detection
As part of our automatic line, a metal detector scans each bottle as it comes down the line to ensure that no foreign metallic items have accidentally fallen into the bottles before, during or after filling. If a piece of metal is detected, the product is pushed off the assembly line into a tray. This device makes product safety management extremely efficient.
Sealing and Labeling
After a jar has been passed through metal detection, the next machine will automatically place a lid on the product jar. A heat induction sealer then sticks the inner seal to the jar neck so that the powder has a glued-on protective seal.
The product now passes through a machine that applies the label to the jar and then sends it down the line to have an outer seal applied. This prevents product tampering and makes sure the inner contents are safe.
Quality Control inspectors are making sure at each step that your product is manufactured to the highest standard.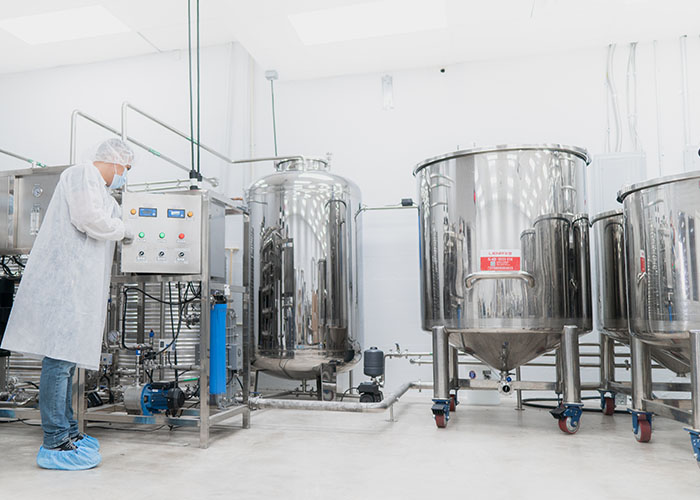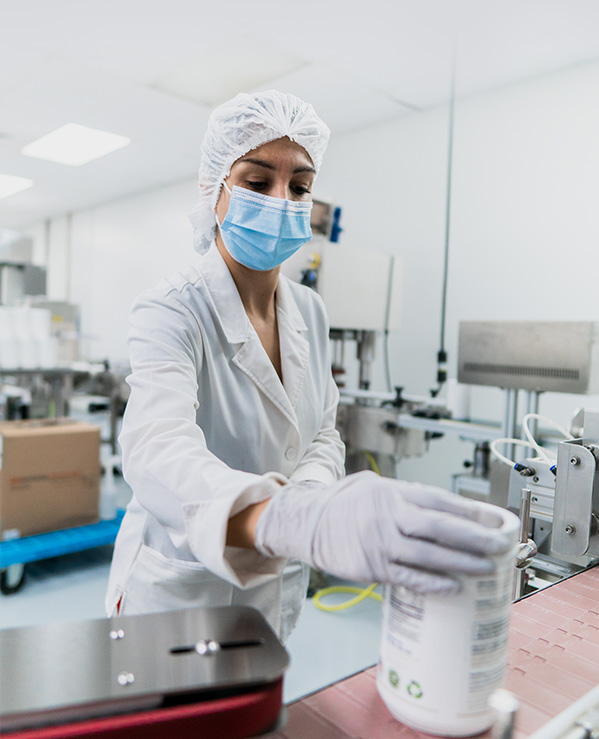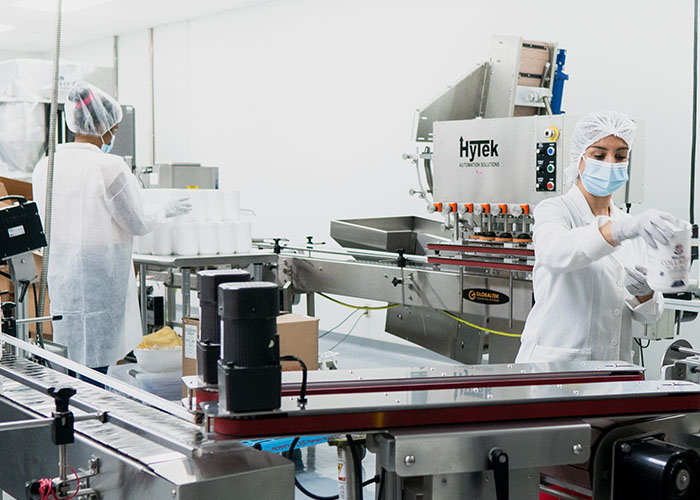 Free Quotes
Sample Custom Runs
8-12 Weeks Turnaround Time on New Products*
6-8 weeks on Reorders*
In-House Biochemist Team with Ph.D. Lead Formulator
All Products Made in the USA
Regulatory Support Available
Low MOQs for Custom Orders
Ready to Work with All Businesses of All Sizes
Exceptional Customer Service and Support
*Disclaimer: Turnaround times on production orders may vary.